Cats! Cats! Cats! I love Cats! I also love free stuff. I thought I'd combine the two and put up a web site. Of course I named it after The Cat. Clover was a great help sleeping on top of my computer, supervising my every move. Wondering how old the links are? You can check the date on the bottom of the page for my my recent update date. If you like what you see on this page I recommend you visiting the links page on this site. Hope you enjoy your visit.
Be sure to enter the the $1,000 webstakes game at the bottom of the page when you're done here. Have fun.

.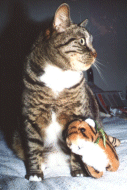 CloverCat, visiting dignitary,
mayor, Tabby Town

The CloverCity Home Page won an award. Please click here to see it. Thanks!
Enter to win free stuff

Enter To Win a Years supply Of Scoop Away Cat Litter click here
Enter to win a free cat toy from the Love that Cat Store click here
Subscribe to Pet Crazy's FREE NEWSLETTER AND COUPONS. You may win their monthly $50 shopping spree. click here
Let your friends know about Pet Crazy. You and your friend will qualify for a cash giveaway. In addition to their monthly $50 shopping spree given to one of their newsletter subscribers, they've have added another giveaway. Now, when you use their Let 'em Know form to refer your friends, you will be entered into a drawing for $50 cash for each unique, valid email address of someone that knows you (no SPAMing, please). The more friends you refer, the more entries you have. Your friends will NOT be placed on their mailing list. If one of your entries is selected, the friend you referred will also win $20. Visit their easy to use Let 'em Know click here
New kitten or puppy?
When you register with Iams, you could win a year's supply of FREE pet food.
click here
Sign up to enter weekly prizes (cat toys from Fat Cat, Inc.) click here
Help save 1 million pets.
Your registration means another dollar in the fight to help animals in need. When you register, Petopia will donate $1 to the ASPCA on behalf of the Million Pet Mercy Mission. This is your chance to help us save 1 million pets in the year 2000. Registered Petopians will also receive The Petopia Post, an informative monthly newsletter.
Register now and you may be this week's Sweepstakes Winner.click here

Register to receive rebates, coupons or products free:

Free 4lb. Bag of Cat Litter (U.S Only) click her
Pet Safety Kit from Purina -
The kit includes pet safety booklet, emergency care magnet and pet rescue sticker. click here
Get a Free Feeding Guide from Happy Paws click here
Get a sample of their premium pet foods as well as a coupon good for future purchases. clickhere
petextras.com
We send out our "First Time Buyer Bonus" packs to say THANKS for placing your initial order through our webstore and to acquaint you with the range of treats we offer.
First time cat customers receive a $6.95 cat goodies sampler. click here

Register with petfoodexpress.com and they'll email you a $15.00 off coupon towards your first $20.00 (or more) purchase click here

Register at the Sheba Web site, play the "find the Sheba" game and win a pin for you (or your cat) click here

Free sample of high hopes pet food. click here

Take a five minute survey and receive a $5.00 rebate towards your next purchase click here
Cansorb Industries register and receive kitty litter free click here


Free offers:
Join the Binky Cat Club and on the birth/arrival-on-the-scene date of
your cat they'll send him/her/it a birthday card and a little present of
catnip. Join the Binky Birthday Club and on or about the blessed date you'll
receive a card and a little gift from Binky Botanika. click here

To receive free samples of Multi-Vitamin Herbal Supplements for pets click here
For your FREE Pet Finder Window Sticker (SASE). For more information click here

Free Purina Treats. Choose from Wisker lickings, TBonz or Begging Strips click here

It's HERE! the 2000 Purina Calendar. click here

Free sample available cat box liners. S & H required. click here
Buy one bag of kitty litter and get a second 7# free click here

Free 18 oz sample of Kitten Chow from Purina click here

Have an older pet? Sign up for Purina Silver Pet Program click here
From Petsmart.com. Buy any dog or cat food item, bags or cans, and get the second, identical item for FREE. click here
Check back weekly for new pet care articles from isyndicate
click here
for Clovers photo page
click here
for the horoscope page
click here
to visit Clovers Toy page
and find more free offers
click here
to visit the links page
click here
our awards page
ureach.com
Free Email, voicemail (with an 800 number) and file storage.
I've been using this great service and love it!
click here
voice mail, email and 100 free business cards all from OneBox
click here
free cat and kitten graphics images, animations and icons

click here
Free Pet Care Tips & Free Pet Safety Tips.

click here
Holistic Pet Care Booklet
click here
Doggy Bag Sample
click here
Free digital postcard for animal lovers

click here
300 free Address Labels at iPrint for first time customers. You pay $1.75 postage.
click here
Want a free Tshirt?
sign up with The Science.com and they'll send you one

click here
Free Cat Screen Saver

click here
to add a free offer, report a broken link or contact us


Like this site? Please vote by clicking on the button below, Thanks!

click here
Enter To Win FREE Toys!
monthly drawing